for Clients and Caregivers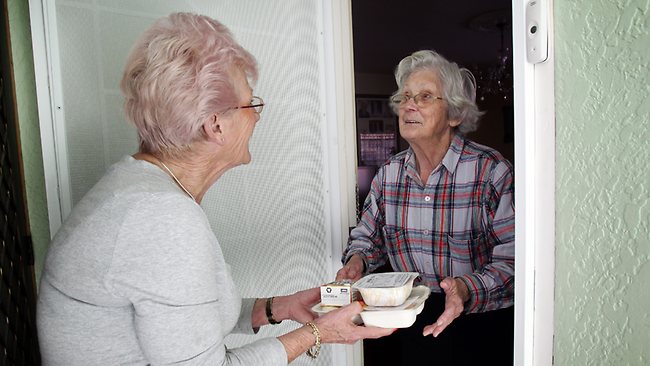 Who is eligible to receive Meals on Wheels?
Residents of Fluvanna County
Seniors and adults with disabilities who are homebound
People who are unable to prepare their own meals
People who are alone with no one to prepare meals for them.
Can you get meals short term?
Yes, Meals are available temporarily for adults who are recovering from surgery or illness and live alone.
What are the meals like? Can I see a sample menu?
Our meals are prepared locally by Wahoo BBQ in accordance with VDA guidelines. The meals are heart-healthy and low-sodium. Each meal features healthy portions including an entrée, vegetable, bread or grain, fruit and a beverage. Here's a sample menu.
Are diabetic and other diet-specific meal options available?
Meals on Wheels happily offers low-sugar, low-sodium meals. If you require a special diet, please contact the Jefferson Area Board of Aging at 434-817-5222 to see if they can assist you.
How much do meals cost? Is financial assistance available?
The cost for meals is based on the income of the senior(s) as we have a sliding scale.  We work with each client so they pay what they can afford to help offset the cost of meals. We review monthly income and expenses and base the cost accordingly.
The majority of our seniors and adults with disabilities do not pay for their meals.  The cost is never more than what we pay for the food and container.
How does the approval process work?
Once we receive an application, we will make a home visit before meals start. We will meet the potential client and explain how Meals on Wheels operates.
When are meals delivered?
We provide one warm meal Monday through Friday between 10 AM and 1 PM, and also offer shelf stable weekend meals that are delivered twice a month.
Do you deliver on holidays?
We are closed on the following holidays: New Year's Day, Memorial Day, Independence Day, Labor Day, Thanksgiving and the day after, Christmas Day. We may be closed additional days depending on when the holiday falls.
When we are closed for holidays, a frozen meal will be delivered before the holiday.
Do you deliver in bad weather?
We follow Fluvanna County Schools weather related closings.
We will post an announcement on NBC 29, CBS 19 and the Fluvanna Meals on Wheel Facebook page.
How do I request meals or refer someone?
Call our office 434-589-1685 or go online to Request Meals to submit an application.

Thank you for the wonderful job the meals on wheels program is doing for my mom.  She tells me how much she enjoys talking to the people who bring her food and how she gets little surprises sometimes like homemade paper place mats and butterflies from local kids in her box.   She hung the butterfly in her window and put the mats on her table. She was tickled to get them.  It gives me comfort in knowing she gets to see someone daily during the week and will be given a nice meal to eat for lunch." – L.B.