Irene was very surprised and very pleased with the meals and drivers. " She said all of the drivers have been very, very nice." Food is good – she likes more seasoning, so she doctors it up and it is delicious! She says "MOW is a Godsend." Can't thank us enough. It is wonderful to have the meals. She really appreciates it. It is fantastic!
"The group of ladies that delivered today really made my client (I am the care giver) the most wonderful surprise. They brought with them, not only a friendly smile, but cupcakes to celebrate his birthday. They sang happy birthday to him and then prayed with him. He was overwhelmed with the kindness they showed him. I was brought to tears watching this whole event. Thank you for making his day wonderful!" – Heather
 "I matter to people—they know if I have a doctor appointment, they ask how I am doing, when my grandkids are going to visit. And I especially like Fridays because when Rick and Sarah deliver my meal, they always share a bit of the local news with me too!" – Ray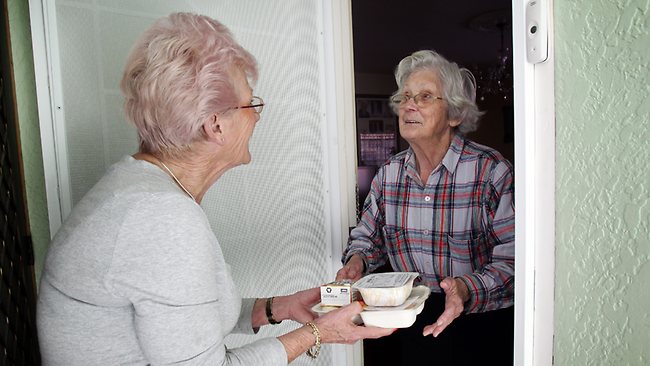 "When the weather is nice, Ray waits on his porch for the volunteers to arrive with his meal—he always has a smile and is quick to let me know what his favorite meals are. Ray is much healthier—and he especially enjoys chatting with the folks who deliver." – Ray's neighbor
"I felt tired and weak…I knew I was not getting the nourishment I needed to keep my strength. I worried that I would get sick again and need a doctor. Now, my stomach feels full and I feel stronger. I know that I am healthier because I am eating actual meals—I had forgotten how good fresh salad could taste!" – Clare
"Sometimes I would go a whole day without eating. Now I have good food every day! Sometimes different people come and they're all very nice. I know they're checking on me, too, but I don't mind." – Ella
"I don't want to go live in a nursing home. That is my biggest fear. I want to stay here in my house. What will happen to Buddy, my cat? He needs me. I need to be here with him. We are happy here. I just need some help with food." – Carl
"This is my home. I've lived here forever. Please don't make me leave." – Andy
Judy, daughter of a client: "I was so worried about my mother. We were in the process of selling her home and transitioning her to an independent living facility in Charlottesville. My brother and I live out of town and could not check on her until the weekends. It was such a relief to know that she had people coming by every day during the week. Volunteers called several times to let me know how she was doing during this critical time."
Daughter of client that passed away: "My mother loved all of the Meals on Wheels drivers and so looked forward to them coming each day. Thank you all for making her feel so special.""I want to thank you for the lovely package for my birthday; I don't know how you all do so much. It's all appreciated. Thank you so much!" – A.S.
"I just saw my birthday present…you all are the only ones who know my birthday now. Thank you so much and God bless." – R.S.
"You all have been so helpful these last few months and your volunteers are always so friendly. Thank you to all of you for being there for her and my father-in-law before he passed." –D.M.
"I enjoy the Meals on Wheels very much, because I am not able to cook much now. The food is very good and each employee is polite and pleasant. Thank you for all the help. God Bless." – M.A.
"We are both down and I am very sick and without the help of Meals on Wheels I could not make it. Even not able to get to the door and we thank the drivers for all their help. The food is real good and hot. Thanks for all you do. May God Bless you all." – M.B.
"Meals on Wheels, in Fluvanna County, Virginia, is in my considered estimation, the most caring, compassionate, beneficial, effective and efficient organization in all of Fluvanna County…The food is both delicious and nutritious. And, I strongly believe that her health has dramatically improved because of the wonderful nutrition and the very positive atmosphere created by the very caring attitudes of the very gracious volunteers!…Although her caregivers serve my mother breakfast and supper, I believe that my mother's most important meal is her lunch, as graciously delivered to her five days per week by the kind and devoted volunteers of Meals on Wheels.   Nutritious snacks are also given to her for her consumption on weekends…Before her ordered around the clock care, a Meals on Wheels volunteer found my mother lying on the floor of her bedroom from yet another fall. After he ascertained that it was safe to do so, he gently placed her back in bed and then he telephoned with the news. I shudder to think what would have been the outcome if my mother had laid on that hard oak floor for hours without any care before help arrived! In my view, that man is a true hero! All in all, the devotion and dedication of the kind, gentle and friendly volunteers of Meals on Wheels is a Godsend to Fluvanna County!" –B.P.
"Thanks very much for the Meals on Wheels. They are very helpful for me, because I am 85 and just don't feel like cooking anymore and the food is real good. I just love it. So thanks very much." – G.A.
"Thank you for the wonderful job the meals on wheels program is doing for my mom.  She tells me how much she enjoys talking to the people who bring her food and how she gets little surprises sometimes like homemade paper place mats and butterflies from local kids in her box.   She hung the butterfly in her window and put the mats on her table. She was tickled to get them.  It gives me comfort in knowing she gets to see someone daily during the week and will be given a nice meal to eat for lunch." – L.B.